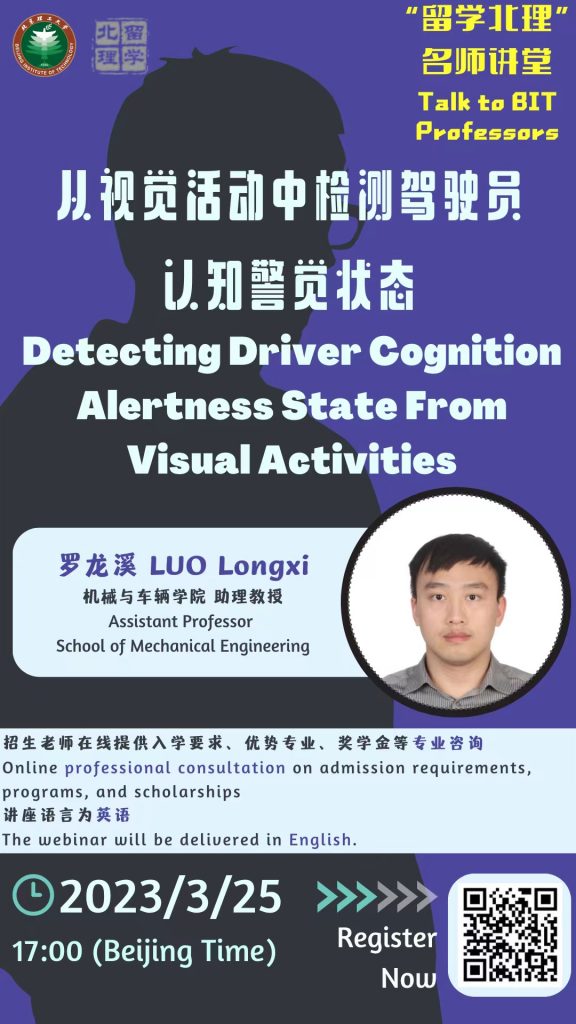 Greetings from Beijing Institute of Technology (BIT)!
The Office of International Students at BIT is offering a series of webinars: Talk to BIT Professors. We invite professors from different Schools and Departments to give us presentations on academic topics. At the end of each webinar, the admission counselors will also hold a Q & A session for prospective students.
The upcoming webinar is on Saturday, March 25, 2023, starting at 17:00 (Beijing Time). Assistant Professor LUO Longxi, from the School of Mechanical Engineering, will share his insight on Detecting Driver Cognition Alertness State From Visual Activities.
Please find the attachment for more detailed information.
We would really appreciate your help to spread the information to your students who are interested in the topic.
They are encouraged to sign up with the following sheet: https://www.wjx.top/vm/OzZYNFz.aspx
or by scanning the QR code for the webinar, which will be held on Zoom:
Zoom Meeting link:
https://zoom.us/j/81255800496?pwd=N01RS01OTU96WnN2MnZsMWJOSzd3dz09
Meeting ID: 812 5580 0496
Passcode: BIT