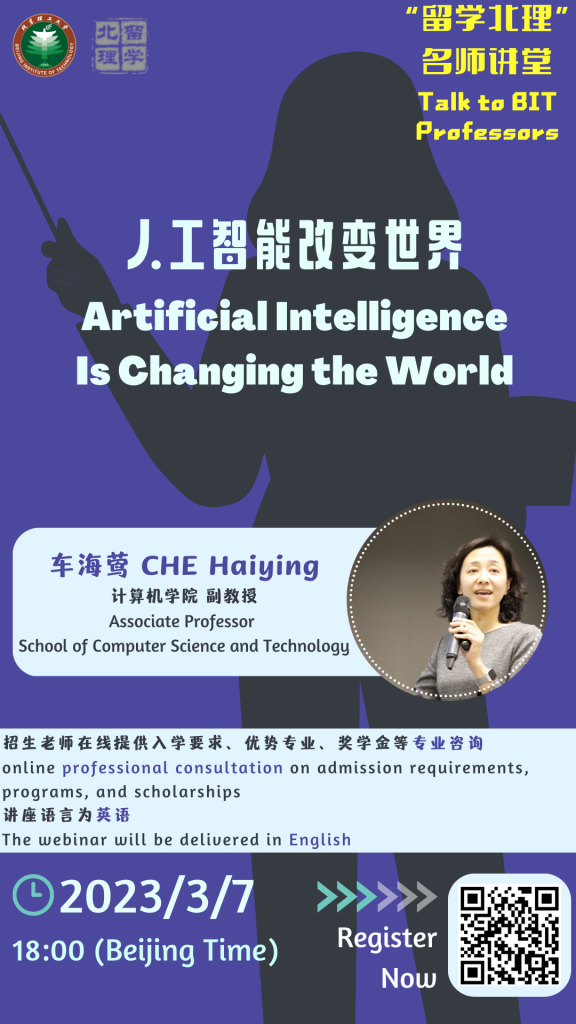 The Office of International Students at BIT is offering a series of webinars: Talk to BIT Professors. We invite professors from different Schools and Departments to give us presentations on academic topics. At the end of each webinar, the admission counselors will also hold a Q & A session for prospective students. 
The upcoming webinar is on Tuesday, March 7, 2023, starting at 18:00 (Beijing Time). Associate Professor CHE Haiying, from the School of Computer Science and Technology, will share her insight on Artificial Intelligence Is Changing the World.
Please find the attachment for more detailed information.
We would really appreciate your help to spread the information to your students who are interested in the topic.
They are encouraged to sign up with the following sheet: https://www.wjx.top/vm/OxwKfeY.aspx#
or by scanning the QR code for the webinar, which will be held on Zoom:
Zoom meeting link: https://us02web.zoom.us/j/85062015373?pwd=UGprdDlySnpvaWEvV1prcThuUlp1UT09
 Meeting ID: 850 6201 5373
 Passcode: BIT